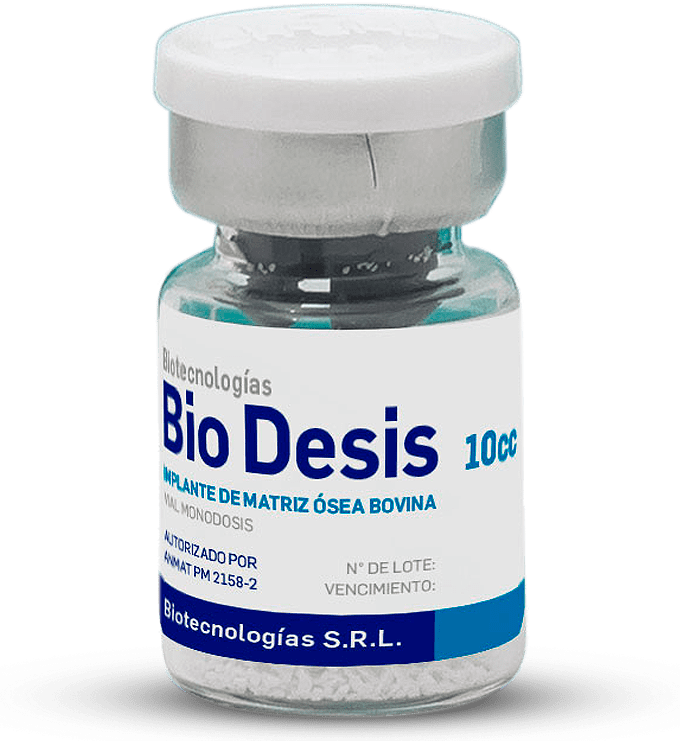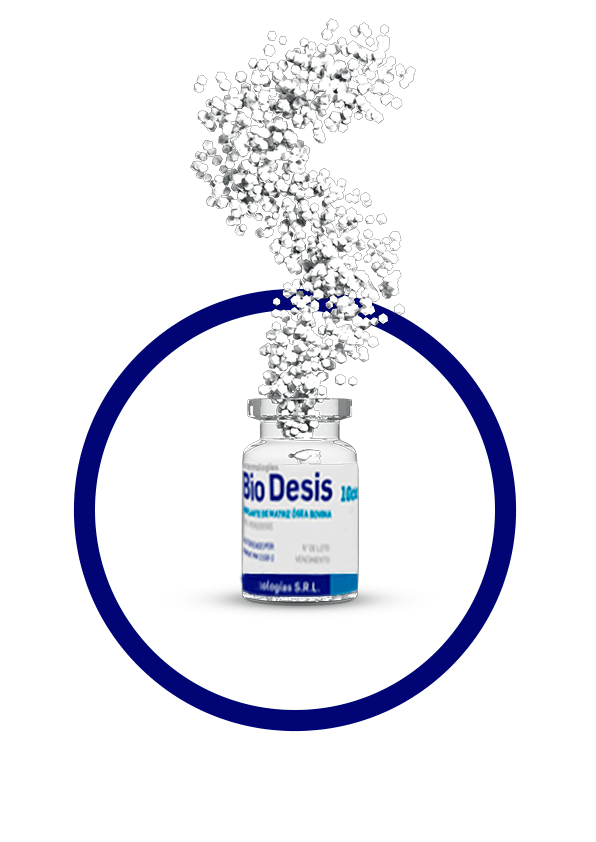 BIODESIS:
Biomaterial composed of hydroxyapatite or spongy bone inorganic mineral matrix, obtained by physicochemical processing of the bovine femoral head bone, from which its organic components have been removed.
The porous bone from which all the organic matter has been removed, remaining only made up of the bone matrix is ​​known as deproteinized inorganic bone and it turns out to be useful in the field of xenogeneic implants (from different species).
The inorganic bone matrix of BIODESIS has a granulometry ranging from 1,680 to 4,000 microns, and a
macroporous and microporous structure similar to that of human cancellous bone.
The biological composition and the large volume of interconnected pores favor the formation and growth of new bone at the implantation site. Over time it undergoes a physiological remodeling due to the invasion of osteoclasts and osteoblasts. adequate porous, meets the requirements to be biocompatible.
PRESENTATION: 5cc, 10cc, 20cc, 30cc, 40cc, 50cc.
Safety and Efficacy of the Medical product
The certification of the animals from which the raw material comes are originally raised, fed and slaughtered within the territory of the Argentine Republic, a country free of Bovine Spongiform Encephalitis, plus the processing conditions, calcination temperature and ionizing gamma irradiation, everything which provides the highest level of security relative to the absence of the Prion of Spongiform Encephalitis of Bovine origin. The raw material is kept stored in freezers with installed thermal controllers that ensure the storage conditions and keep the bovine tissue within the parameters established in the product monograph. Sterile Bovine Hydroxyapatite BioDesis is packaged in a primary borosilicate glass container (low alkaline content) that is not reusable. In addition, the bromobutyl elastomer cap and security seal, achieve a suitable complement to ensure the hermeticity of the container.
To keep the medical product sterile until implantation, BioDesis is presented with a matrix blister specially developed with the measurements of our primary packaging, with a PET specially developed to be sterilized by gamma radiation, with high chemical and thermal resistance, easy to open for greater comfort for the professional.
The set is sterilized with gamma irradiation, which provides the appropriate aseptic conditions for a successful surgery.
BioDesis is presented as a single-dose container in such a way that it is only used once,
preventing it from being reused in another instance.
Registry
LEGAL NO. 2158 OF REGISTRATION AND AUTHORIZATION OF OPERATION OF THE COMPANY
PROVISION 314: 2014 ENABLING THE COMPANY AND DESIGNATION OF THE TECHNICAL MANAGEMENT
CERTIFICATE OF COMPLIANCE WITH GOOD PRACTICES IN THE MANUFACTURE OF MEDICAL PRODUCTS-DISPOSITION ANMAT 3266: 2013
PRODUCT REGISTRATION: BioDesis PM 2158-2. ANMAT PROVISION 7680: 2017